Whilst printing an extruder for my huxley/mini-mendel test printer (NEMA 17 bowden extruder drive by jmgiacalone), I realised I didn't have a "M4 toothed insert". Not wanting to pay, nor wait, for one, I decided to hack something together from parts I already had.
Not being able to hob my own bolts has irked me for a while - I don't own a slow enough drill, nor do I have shop tools to machine a part. However, the recent purchase of a Dremel brings with it many opportunities! My previous attempt at hobbing a M8 bolt had worked, but it was non too pretty, and I thought a M4 nut would be too fine to hob by hand.
Still I decided to give it a go - trying both standard M4 nuts and coupling nuts - which turned out to fit perfectly in the extruder.
First I ground the coupling nut a little to round off the edges, then slowly worked along the length with a fine cut-off attachment.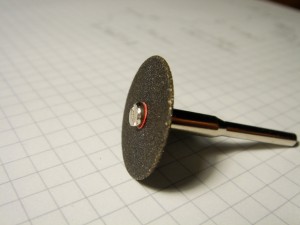 Bolstered by these results I then attempted another M8 bolt, with much better results.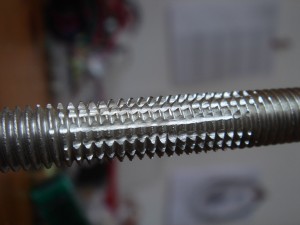 The steel of the bolt was much harder on the attachments though.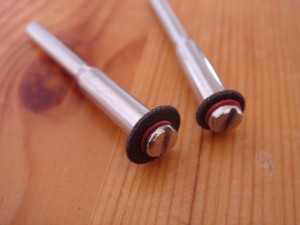 ---
Comments