Custom Parts for Ikea Lillabo Train Set
The wood composite seems well suited for printing some custom parts I designed to supplement the Lillabo Train Set from Ikea.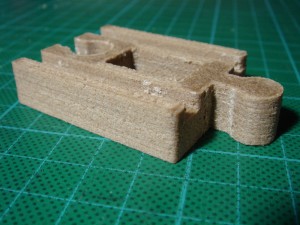 Short Track Piece Detail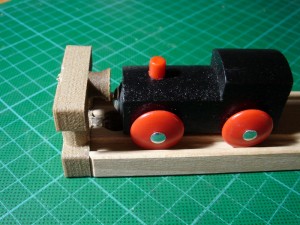 Buffer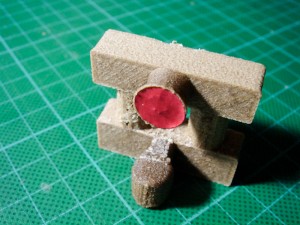 Buffer Detail. Red sticker added to cover a hole in the fill.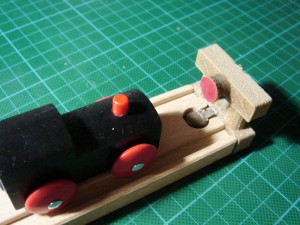 Buffer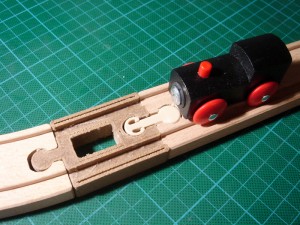 Short Track Piece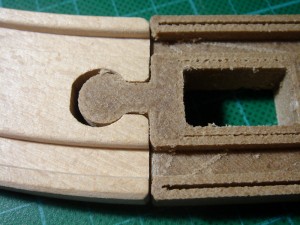 Short Track Piece Peg. Peg can be lengthened a little.
The parts printed out well on the first go, with only minimal clean-up required due to the oozing. The circle part of the buffer still had a hole in it even though I set the solid layers to three (infill=20%), but adding a red sticker easily solves that.
It makes me think that a useful feature for a slicer would be to gradually increase the infill for the last few layers, i.e. 20% on layer n-3, 40% on n-2, 80 on n-1 and then 100% on the top.
---
Comments
Lis Sampson 04-10-2012 17:04

I have ordered my Laywood filament 2 weeks ago and am waiting for it to come in. I have been enjoying your updates and am excited to try it out. On another note, I built my first Mendel Prusa using your instructions. Great instructions, so thank you for that!



---

Gary Hodgson 04-10-2012 21:12

Great stuff! Always nice to hear! I'd be interested to hear how you find the Laywood filament. So far I'm really enjoying using it but am interested to see other people's results.



---